I've shown you several cards over the past few months with the scallop edge done with the "wave" thinlet from the Seasonal Layers Thinlets.  That is a rather spendy set of thinlets just for the scallop so I've been meaning to show some of the other wonderful things you can do with the thinlet set along with its companion stamp set Colorful Seasons. And, there is a group of CAS (clean and simple) challenges that I came across a few months ago and have been wanting to play. So today I'm bringing you both!
There is a group of Clean and Simple monthly challenges that cover 4 subjects: Watercolor, Mixed Media, Stencils and Christmas. I managed to get the first three done today - the last day that I can link the challenges to the appropriate blogs. I will have to et started earlier in February...
The watercolor challenge was to use watercolor with a theme of winter. This seemed a natural to show off the pretty snowflakes included in the Seasonal Layers Thinlets.
I started with a 1/2 sheet of Stampin' Up!'s watercolor paper - 4 1/2"x 6" and sprayed with 4-5 times with spritzes of water.

I applied slightly watered down Blueberry Bushel ink refill to the watercolor paper with a paintbrush and blotted the excess ink and water, then dried it a little more thoroughly with my heat tool.

I trimmed it to 5 1/2" x 3 1/2", setting aside the excess for later use.

I trimmed the watercolor piece with a thin strip of silver foil paper added to a standard A2 card.

Heat emboss message with silver embossing powder.

I cut the three snowflakes from the thinlets out of the silver foil paper and attached them to the card with Multipurpose liquid adhesive which I applied with a sponge.

Add a sprinkling of silver metallic pearls and you are ready to write a note on the inside and pop it into the mail.
The Stencil Challenge called for sponging.  While the leaves might have been good for sponging I did decide to bypass this thinlet set for this card and decided to try my hand at using the big group of butterflies from the Butterfly Beauty Thinlets.  I was kind of mimicking and emboss resist card I once did.
The butterfly panel was sponged with Crumb Cake ink and edged with Champagne Foil paper. I cut the larger butterflies from copy paper with one of the Butterfly Beauty die.

The "just breathe" message is also stamped with Crumb Cake and layered with Champagne Foil paper.

I cut three little smaller butterflies from the Champagne paper with the same set of thinlet and applied them going up the right side of the card.
The CAS Mix Up or Mixed Media challenge calls for using a Bokeh technique - the white-ish circles that appear sometimes on photographs.
I water colored a piece with the same technique I used in the first card, except I also used some Coastal Cabana and Granny Apple Green.

I punched various sized circles from a piece of vellum to create a stencil.  I then used these to sponge/lightly rub white craft ink over my water color piece.

I then trimmed the piece to my liking and cut a piece of gold foil paper 1/8" larger to mat it.

I stamped the greeting with Versamark ink on vellum, embossed it in gold and hand trimmed it.

Usually adhesive shows through on vellum but I seem to have gotten away with applying SNAIL adhesive to the back and it really doesn't show through since so much of it is embossed.

Embellish with gold metallic pearls.
Here is a better shot of the embossing:
I love the many messages and beautiful font in the Colorful Seasons stamp set.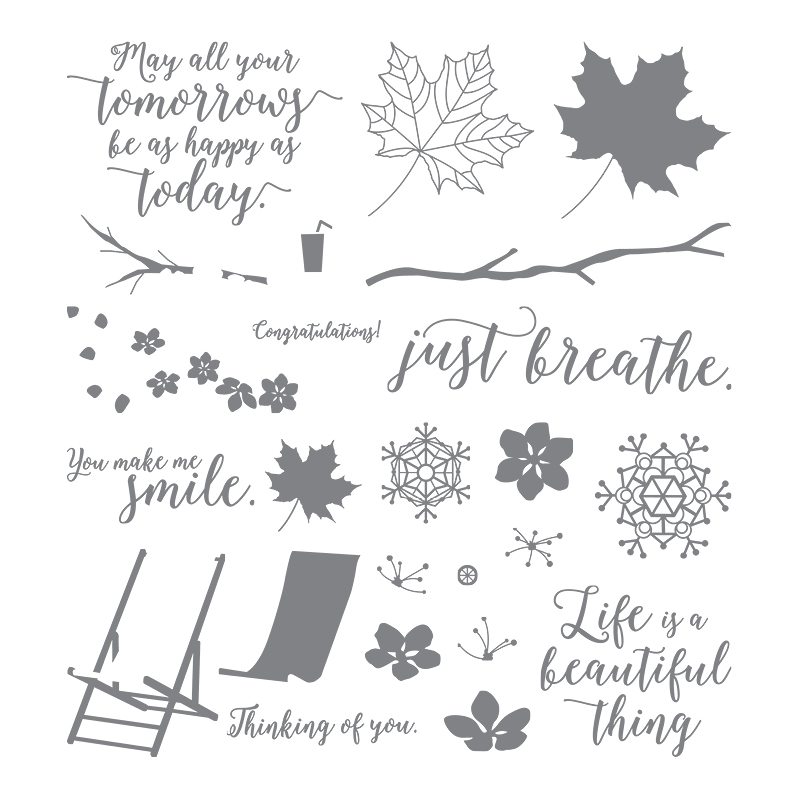 If you click on Colorful Seasons over on the right side bar of my blog you will see other projects I've complete with this set/bundle.
They are perfect to use with hand made or hand stamped background papers.
I really appreciate that you have taken time out of your day to visit my blog. Let me know what you think and come back again soon!
Stampin' Up! catalogs can be viewed with the Current Stampin' Up! catalogs link at the top of my blog. If you don't have regular Stampin' Up Demonstrator and would like hard copies of any of our current catalogs please feel free to email me at [email protected]

Chris
***If you need a Stampin' Up! demonstrator I would love to help you with your stamping journey and have you shop with me! You can click on "Shop with Chris Smith" at the top of my blog.
---
If you place a minimum $50 (US) order using the January host code,  3Q934R4K, I will send you the Happiness Blooms Enamel Dots. You will also earn a free Sale-A-Bration item if ordered on or after January 3. US customers only. Customers placing an order smaller than $50 will still receive my January thank you.

If you place a $150 or greater order please don't use the hostess code. You will still receive the gifts but you will also get your own hostess benefits.
Product List